Set Up Orchard to Be Tech-Friendly | News and Education on Growing Fruit and Vegetable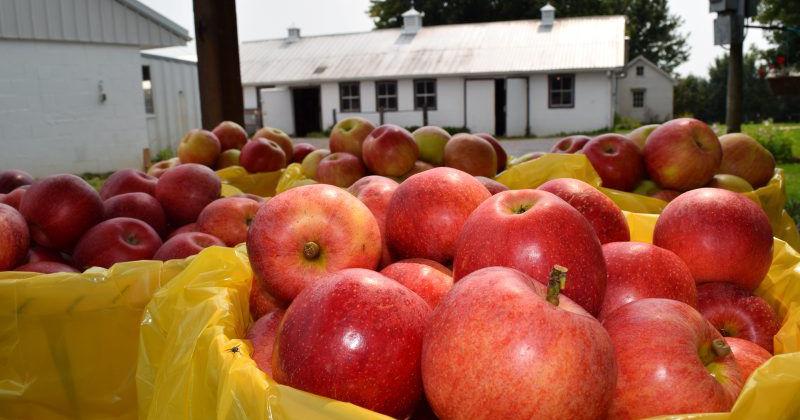 Bushels of sensors, apps and precision machinery are becoming available to fruit growers, but an orchard's preparation for new tech can be as important as the gadgets themselves.
New York grower Robert Brown built for the future by choosing tree designs that could be managed efficiently with machinery.
"If we're going to adopt the best technologies, let's get something that's uniform and we can work with," said Brown, of Orchard Dale Fruit Co. in Waterport.
Justin Finkler, operations manager of Riveridge Produce Marketing, has pursued a similar strategy.
In 2014, the Michigan company began focusing on growing trees in a V trellis system.
The narrow canopy seemed like it would be amenable to robots and automated machinery that might come onto the market, but the decision was still hard to make, Finkler said in a June 30 webinar presented by the International Fruit Tree Association.
No other growers in his area were using a V trellis at the time, and visits to farms in other parts of the country, while helpful, weren't the same as living with the system.
The V trellis proved to be a good move. Farm efficiency is up, and the simple tree architecture has simplified the training of new work crews.
"They don't need to have five or 10 years of experience to learn how to prune a tree," Finkler said. "We can do it relatively quickly as long as we have enough supervision."
Canadian grower Gerbe Botden said his most useful technology is, of all things, Microsoft Excel.
The spreadsheet program isn't flashy or even specifically designed for farming, but it produces something of vital importance — information Botden can use to inform his decisions.
Botden, the orchard manager at Blue Mountain Fruit Co. in Thornbury, Ontario, has been measuring fruit in every block of the orchard each week since 2013. That wealth of data has allowed him to chart historical growth curves for his crops.
If fruits aren't sizing as expected, Botden can call for hand thinning to be increased, potassium to be added to the irrigation system, or weeds to be cleared around the trees.
Botden has already saved two seasons by tracking these data points. The key, he said, is to be consistent with measurements.
"Once you make that method, stick with it and gather the same data year over year so that you can compare your results," he said.
For data to have value, middle managers also need to trust the readings they're receiving and be comfortable acting on them.
Finkler said he increases supervisors' buy-in by involving them in the process of selecting new technology.
Cody LaRiviere takes a trust but verify approach with tree health sensors.
He works at Yakima-based Washington Fruit and Produce Co., which employs the Phytech system. It calls for sensors on three trees per 10 acres.
That's not a big sample size, so every few weeks an orchard worker measures about 100 trees in the block to see if their hand count matches Phytech's number.
"If it does, we'll leave the sensors. If not, we'll adjust them and make sure that it's hitting the actual average throughout the block," LaRiviere said.
Orchardists can bring in a host of tools to monitor everything from weather to crop load, and manage things like zone mapping and payroll.
Growers who don't know where to start should pick an area they're interested in and look for products that improve profitability, Brown said.
At the same time, growers should remember that drones, sensors and phone apps are only as good as the management system on which they are built.
"Technology can have a really broad definition, and we often jump to the most advanced things," said moderator Anna Wallis, an apple production specialist at Michigan State University. "But you guys have brought back very basic things like tree structure, data collection and things like that."