Alienware m18 hands-on review: A gigantic gaming laptop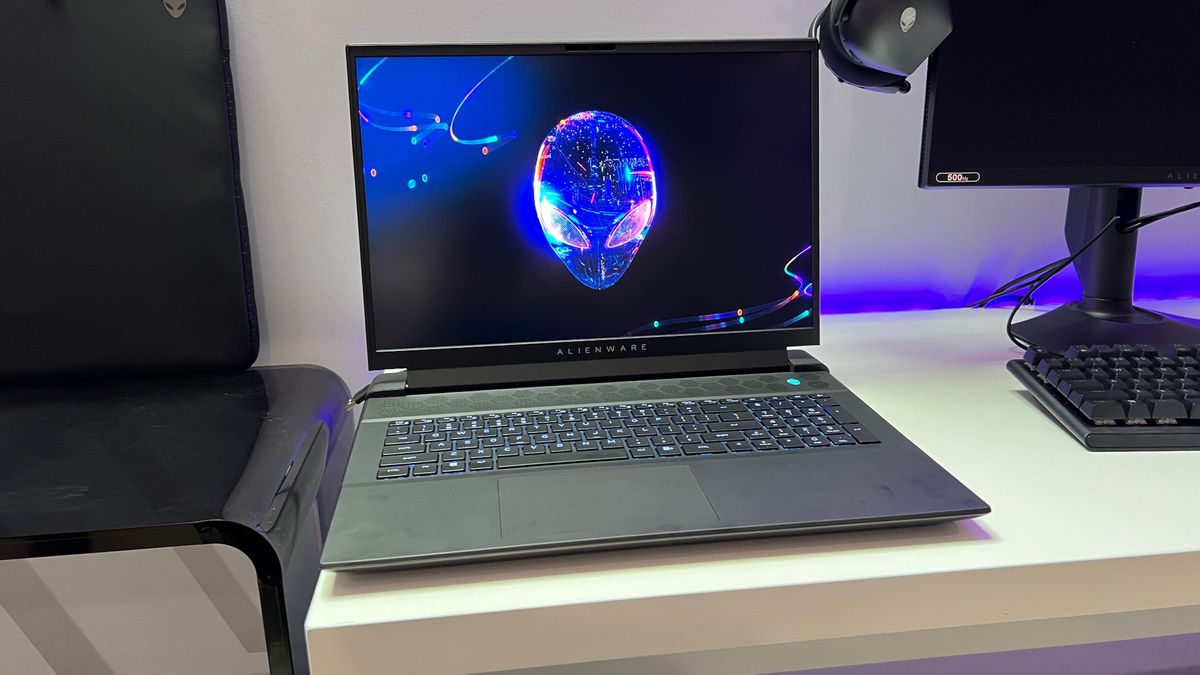 The new Alienware m18 is a ginormous gaming laptop that commands attention. This isn't Alienware's first 18-inch gaming laptop, but it should still shock folks who haven't seen a notebook of this size in years. The Alienware m18's size is certainly its biggest selling point, but it should also pack enough power under the hood to compete even with the best gaming PCs. In fact, Dell is marketing this beastly laptop as a desktop replacement.
I got some hands-on time with the Alienware m18 during a press event Dell held in New York City. It should come as no surprise that this gaming laptop was the highlight of the event for me. Not only does it look ridiculous (in a good way), but it also packs next-gen processors and graphics cards. Its advanced cooling technologies are also impressive.
Here's what I thought of the Alienware m18.
Alienware m18: Specs 
Swipe to scroll horizontally
| | |
| --- | --- |
| Row 0 – Cell 0 | Row 0 – Cell 1 |
| Price | $2,899 (starting for Intel CPU & Nvidia GPU) |
| CPU | 13th Gen Intel Core | AMD Ryzen |
| GPU | Next-gen Nvidia RTX and AMD Radeon |
| Display | QHD (2560 x 1600) @ 165Hz | FHD (1920 x 1200) @ 480Hz |
| Memory | 16GB – 64GB |
| Storage | 256GB – 9TB |
| Ports | 1 ethernet port, 1 headphone jack, 3 USB-A, 3 USB-C, 1 HDMI 2.1, 1 mini-DisplayPort, 1 SD card |
| Dimensions | 16.15 x 12.59 x 1.5 inches |
| Weight | TBA |
Alienware m18: Price and configuration 
The Alienware m18 comes in a variety of configurations, including models with the latest 13th Gen Intel Core "Raptor Lake" processors. Available Intel CPUs include the i7 13650HX, i7 13700HX, i9 13900HX and i9 13980HX. New AMD Ryzen processors are also available, though we don't yet know which specific CPUs.
GPU-wise, the Alienware will pack "next-gen" Nvidia GeForce RTX or AMD Radeon graphics. It doesn't take much to infer that "next-gen" means Nvidia and AMD's latest graphics cards, namely mobile versions of the RTX-40 series and Radeon RX line, respectively.
Memory options range from 16GB to 64GB of DDR5 RAM, while storage options range from 256GB all the way to 9TB.
We don't have a firm release date right now, but expect configurations with Intel and Nvidia components in the first quarter of 2023 starting at $2,899 (roughly £2,420/AU$4,304). Additional options will launch sometime later in the year with entry models starting at $2,099 (around £1,753/AU$3,116). Expect AMD options in the second quarter, with prices announced closer to the shipping date.
Alienware m18: Design 
The Alienware m18 measures 16.15 x 12.59 x 1.5 inches. We don't have the laptop's official weight, but it's a heavy machine for sure. I'm a pretty strong person but I couldn't comfortably hold this monstrous laptop for too long even with both hands. But, as a Dell PR told me, the Alienware m18 is effectively a desktop replacement and you're not necessarily meant to carry it around.
Like the new Alienware m16, the m18 has a Dark Metallic Moon aluminum chassis featuring the updated Alienware Legend 3.0 design language. One of the most distinctive new features is the laptop's feet, which wrap around the bottom of the machine to raise it off surfaces. Two openings in the front and back of the feet help increase airflow and improve performance, according to Dell. Vapor chamber cooling technology over the CPU and GPU should also help improve performance.
2023's Alienware M-series has a decidedly less ostentatious design than its predecessors. They still look like gaming laptops, but not aggressively so. This is something I appreciate since I tend to favor understated designs for tech products.
Alienware m18: Display 
The Alienware m18 has a gargantuan 18-inch display with a 16:10 aspect ratio. It comes in two configurations. One model features a QHD (2560 x 1600) 165Hz display while the other has an FHD (1920 x 1200) 480Hz screen. Both options have up to a 3ms response time, along with Nvidia G-Sync and AMD FreeSync support. ComfortView Plus and Dynamic Display Switching are also featured. Dell claims the panels can reach 300 nits of brightness and cover 100% of the sRGB color gamut.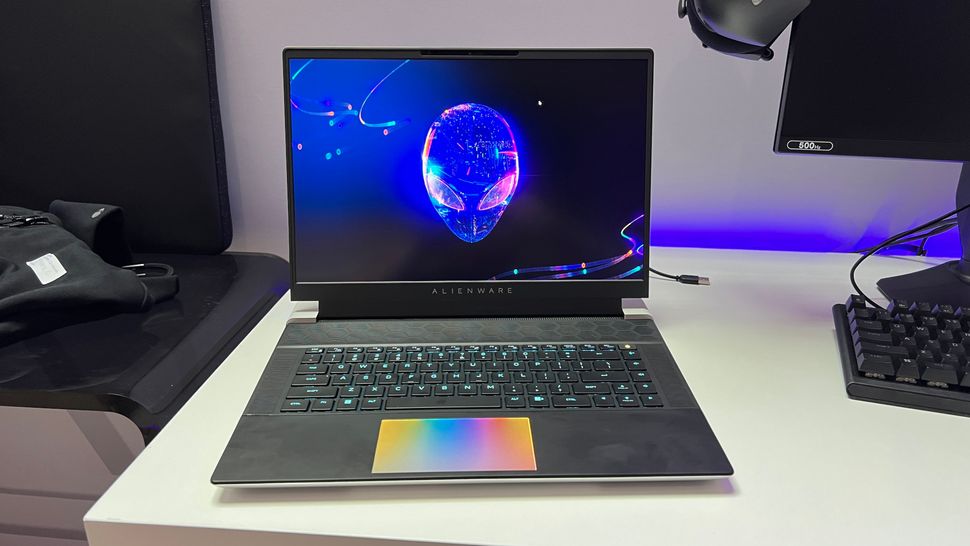 During my limited time with the Alienware m18, I found the display very impressive. After all, it's been ages since I've seen a laptop with a display this huge. I can't say how well games or streaming content look on the display, but I found the panel sufficiently bright and colorful. I can't wait to test the display out to see if its performance matches its impressive size.
Alienware m18: Keyboard and touchpad 
The Alienware m18 has two keyboard options. Both keyboards have a 1.8mm key travel distance and per-key AlienFX backlighting, but only one with a Cherry MX ultra-low profile mechanical laptop keyboard.
I went hands-on with the latter and was thoroughly impressed. If you've read any of my laptop reviews, you know I'm not the biggest fan of laptop keyboards; it's why I use a real keyboard and mouse with my laptop. But I love the tactile feel of the Cherry MX switches, and the spacious keyboard gave me plenty of room to type.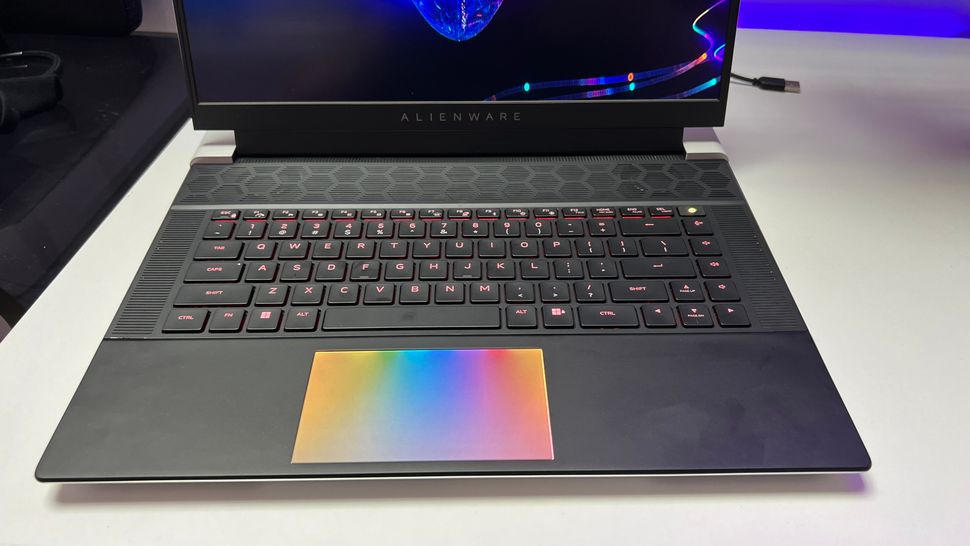 There's not much I can say about the trackpad at this time, but it felt as responsive as any other trackpad I've tested. However, since users like myself will likely use one of the best gaming mice with the Alienware m18, the trackpad isn't something I'm overly concerned with. With that said, I like how the trackpad can also be programmed to have RGB lighting.
Alienware m18: Ports 
Given this laptop's size, it has plenty of room for numerous ports. This is beneficial considering how Dell wants the Alienware m18 to serve as a desktop replacement.
There's an ethernet port, headphone jack and two USB-A ports on the left side and a single USB-C port on the right side. On the back, you'll find two Thunderbolt 4/USB-C ports, another USB-A port, an HDMI 2.1 port, a mini-DisplayPort and an SD card slot.
Alienware m18: Alienware Command Center 
You can view and manage your system's performance and thermals via the new Alienware Command Center 6.0 application that comes pre-installed on the Alienware m18. You can customize peripheral settings and lighting, along with your game library and more via AlienFX.
I'd need to go more in-depth with the Alienware Command Center to gauge its utility, but it seemed pretty robust during my hands-on time. If you're spending big bucks on a gaming laptop then you want as much control over its appearance and performance as possible. The updated Alienware Command Center app should allow you to make this machine distinctly yours.
Alienware m18: Outlook 
The Alienware m18 screams "go big or go home" due to its massive size and 18-inch display. And while this gaming laptop won't be cheap, I can see it being a big seller for Dell. That's because, if it lives up to what the company promises, this machine could be an effective desktop replacement. It could be an ideal machine for those who want a beefy computer but may not have room for a traditional desktop.
It's too early for me to render a verdict on the Alienware m18 but I wouldn't be surprised if it eventually ends up on our best gaming laptops and best laptops lists.