Technology and dedication earn Coeburn Primary School recognition for electronic learning | Education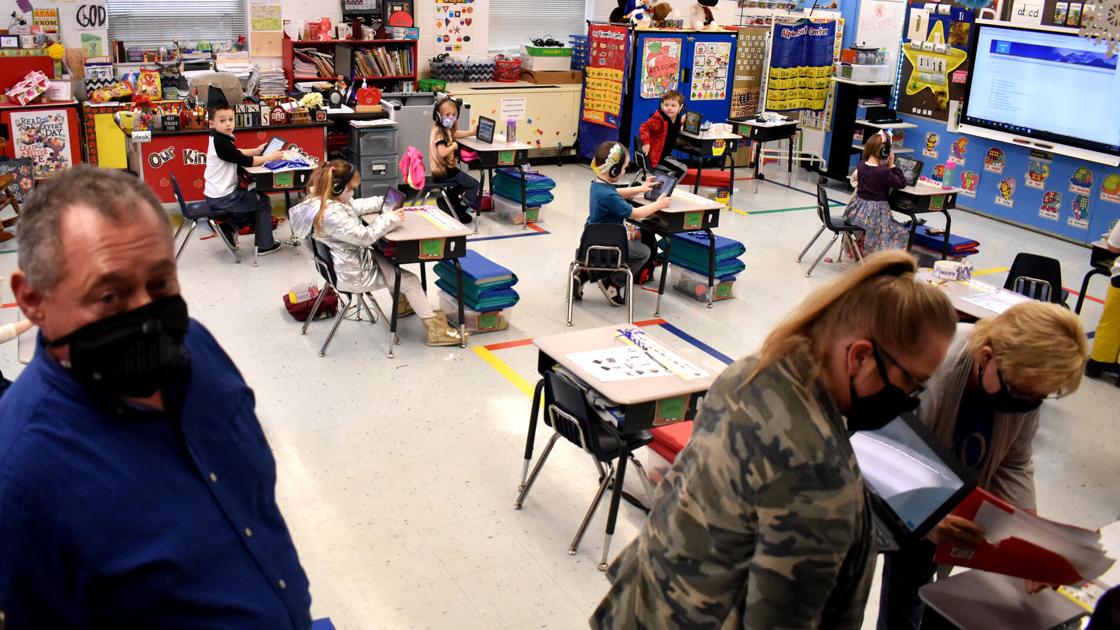 COEBURN — Two decades ago, Coeburn Primary School replaced a classroom chalkboard with its first computer- based "smartboard."
Now, Coeburn Primary is one of 48 schools across the world recognized for how it overhauled classroom education before the COVID-19 pandemic forced many school divisions across the U.S. into greater reliance on computer- based remote learning.
Kevin Marcus, Coeburn Primary's technology coach, said the school has worked with education technology company SMART Technology since that first smartboard to find ways to use computer technology to change the classroom experience from a teacher lecturing and writing on the blackboard to more interactive student learning.
Part of that effort led Marcus and Principal Carmon Arquette in January 2020 — weeks before the pandemic — to work with SMART Technology to get the school designated a SMART Exemplary School. He said the designation was not just a recognition for what the school had done previously, since Exemplary Schools also become involved in helping develop ways to make hardware and software improve student learning experiences.
"They are truly invested in education," Marcus said of SMART. "Most of the company are ex-schoolteachers, and they stress collaboration inside and across schools."
"We had already started transitioning a couple of classrooms," Arquette said, "so we worked together and got it done."
Coeburn Primary's first 'smartboard' was the first in a Wise County school when it was installed in 2001, Marcus said, and it was a rudimentary touch-screen system compared to the boards now installed in the school's classrooms. Combining a modern touch-screen system with the internet and the ability to link with students' own tablets, the latest smartboards allow much more two-way interaction and collaborative learning between teachers and students.
With the Exemplary School designation, Marcus said, Coeburn Primary will also serve as a beta testing site for new technology from SMART. Teachers also will collaborate with teachers in other schools in the U.S. and other countries and share experiences and techniques that all can use to help students.
Marcus said the SMART smartboard system was already helping teachers change how they were working with their students when the COVID-19 pandemic shut down in-person classes in March 2020, and that helped teachers and students adapt quickly to being separated.
"When COVID hit, what we had already done made it easier," Marcus said. "We had already started integrating technology before anyone knew what COVID was, and we had a leg up on the situation."
Smartboards have not been the only part of Coeburn Primary's classroom evolution, Marcus said, but they have helped teachers use a variety of software to handle assignments, lessons and class organization. But Coeburn Primary, like many other schools in Southwest Virginia, has faced technology challenges outside its building.
Arquette said Marcus' work on getting the Exemplary School designation went on even as Coeburn Primary and other schools in Wise County dealt with pandemic challenges.
"It wasn't until November that we found we'd been accepted as a SMART Exemplary School," Marcus said. "One of the things they looked for in a school was if they were dedicated to what they were doing."
"It was harder to do with COVID because many families didn't have good broadband access," Marcus said. "With the Starlink satellite internet program and mobile internet hotspots, we have managed to reach about every one of our students."
"Internet access has been the big thing to overcome," Arquette said. "We've become technology gurus because we have to meet the children where they are."
Arquette said that parents' trust and support have been key to the success of Coeburn Primary's efforts.
"Coeburn Primary School embodies hope for the kids and the families, and those families want the best for their children," Arquette said. "There's so much behind the scenes with what they do that people don't know about."