NSWC Crane employee spends more than 50 years in Information Technology Department > Naval Sea Systems Command > Saved News Module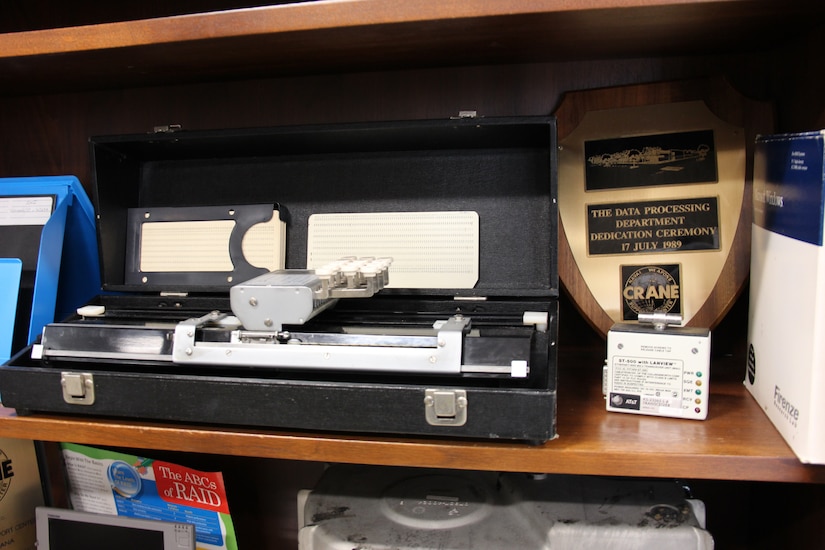 CRANE, Ind. – In 1970, Lana Dagley started her career in Naval Surface Warfare Center, Crane Division's (NSWC Crane) Information Technology Department (ITD), which was formerly referred to as the Data Processing Department. Dagley, set to retire in late February, will have spent her over-fifty-year career in a field that has experienced drastic technological change.
Dagley has been in IT, working with computers by keypunching data to using software to run programs. After receiving her degree from data business school, Dagley started at Crane. She says the conditions when she started were different than they are today.
"Data processing on today's computers is much easier and faster, and the servers are much smaller," says Dagley. "When I started, there was a lot of manual work involved that the computer would need to run on. The old computers were large and kept in their own, cool room. Our work was done in those rooms with the computers. One time, I had to wear gloves it was so cold. There were also times when the weather was bad, so we had to stay all night or work two or three shifts."
Dagley was interested in data and processing from a young age, and a passion that continued throughout her career. She says her time at Crane went by quickly.
"My time working at NSWC Crane went fast because I liked the work and the people I worked with," says Dagley. "I worked various jobs in IT and data processing. It's challenging work, but I was passionate about doing my job. Our team was like a family; we would help each other if someone wasn't feeling well."
Dagley's first role was as a "keypunch operator."
"I would punch out holes on cards to store information. The machines were like typewriters. We'd punch holes with numbers on them. We'd get sheets of work we'd look at, then type in the cards, and the cards fed the computers. There were about two thousand cards we would complete just for payroll."
Dagley was part of a team that managed the data in this way for all of contracting and payroll, where she would manage applications to run different jobs and would run programs for payroll and time.
She later became a computer operator, where she spent more than twenty years in this role. She says it is interesting to think about the difference in computing from then to now.
"I learned new things on the job; at first, I had no idea how to be a computer operator, but I trained for that.
She then served as an admin technician, where she created accounts for the base using software.
"We would work with computer programmers on these huge reports and learned what to look for. The technology was always changing, which kept it interesting. We served as checks and balances to the information and data."
Computing was and is a male-dominated field. Dagley says if there is something you are passionate about, it is important to be persistent.
"Being able to participate in the Data Control role was an opportunity that opened up. I had to hang in there. If there is something you want to do, don't give up."
About NSWC Crane
NSWC Crane is a naval laboratory and a field activity of Naval Sea Systems Command (NAVSEA) with mission areas in Expeditionary Warfare, Strategic Missions and Electronic Warfare. The warfare center is responsible for multi-domain, multi- spectral, full life cycle support of technologies and systems enhancing capability to today's Warfighter.
Join Our Team! NAVSEA employs a diverse, highly trained, educated, and skilled workforce – from students and entry level employees to experienced professionals and individuals with disabilities. We support today's sophisticated Navy and Marine Corps ships, aircraft, weapon systems and computer systems. We are continuously looking for engineers, scientists, IT and cyber specialists, as well as trade and other support professionals to ensure the U.S. Navy can protect and defend America. Please contact NSWC Crane Human Resources at [email protected].