NCAA Tournament 2021 bracket: Computer simulation makes surprising March Madness upsets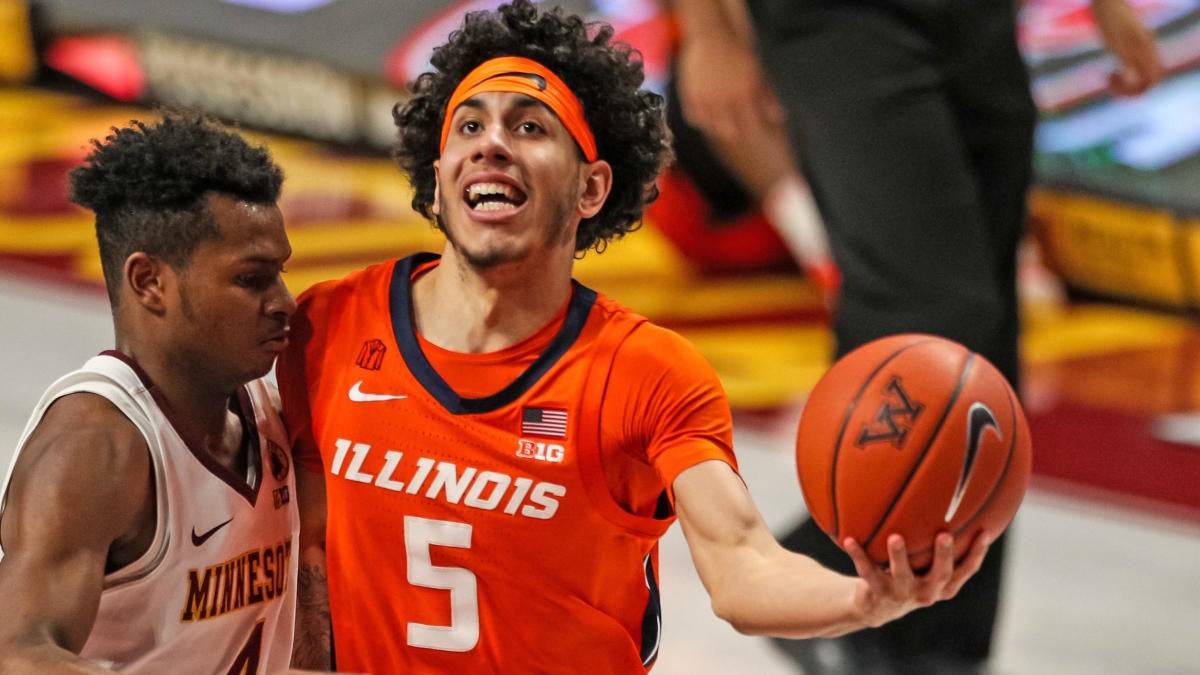 Blue-blood college basketball programs like Duke, Louisville and Kentucky are notably absent from the 2021 NCAA bracket, making the 68-team field as wide open as ever when it starts with a quartet of First Four games on Thursday. The NCAA Tournament 2021 opens first-round play at sites in and around Indianapolis due to COVID-19 protocols instead of nationwide, further cementing a unique March Madness 2021. Gonzaga (26-0) is the top overall seed, with Illinois, Michigan, and Baylor also earning No. 1s.
Do the Zags have what it takes to sweep through the 2021 March Madness bracket and become the first undefeated team to win it all since Indiana in 1975-76? Or will a team from the West Region upset Gonzaga before it even gets to the Final Four? Before making any 2021 March Madness predictions, be sure to check out the 2021 NCAA Tournament bracket picks from the advanced computer model at SportsLine.
Last tournament, SportsLine's computer simulation nailed massive upsets, including huge wins by No. 13 seed UC-Irvine over No. 4 seed Kansas State, No. 10 seed Florida over No. 7 seed Nevada, and No. 12 seed Oregon over No. 5 seed Wisconsin.
This model, which simulates every game 10,000 times, has nailed 15 of the 26 first-round upsets by double-digit seeds the past four tournaments and nailed 14 teams in the Sweet 16 last time.
There's simply no reason to rely on luck when there's proven technology to help you dominate your 2021 March Madness pools. Now, the model has simulated every possible matchup in the 2021 NCAA Tournament and revealed its bracket. You can only see it over at SportsLine.
Top 2021 March Madness bracket upset picks
One team set to pull off a shocking upset in 2021 March Madness brackets: No. 9 St. Bonaventure beats No. 8 LSU. The Bonnies made it to the 1970 Final Four, eventually falling to Jacksonville in the national semifinals and then to New Mexico State in the third-place game.
Although it may seem like a David vs. Goliath matchup, St. Bonaventure won the Atlantic 10 regular-season title and then earned the automatic bid by smacking VCU in the tournament title game. The Bonnies allow a stingy 60.4 points per game, and junior guard Kyle Lofton delivers 14.6 points and 5.5 assists per outing.
LSU went 18-9 in the SEC and took eventual tournament champion Alabama to the wire before falling in the title game. LSU ranks 13th in the country in scoring at 82.1 points per game, but allows a robust 75.3 points per outing. SportsLine's model sees Lofton, Jaren Holmes, Jalen Adaway, Dominick Welch and Osun Osunniyi all scoring in double-digits against the Tigers and has St. Bonaventure advancing to the second round in 48 percent of its 2021 NCAA Tournament simulations.
Another huge curveball in the East Region: No. 12 seed Georgetown pulls off the upset against No. 5 seed Colorado. The Hoyas are one of the most well-known college basketball programs, with five Final Fours and four national title games. After starting the season 5-10, Georgetown won eight of its final 10 games, including a blitz through the Big East Tournament with four wins in four days to earn an automatic bid.
Patrick Ewing's squad limited opponents to just 36.8 percent shooting from the floor during the Big East Tournament and 28-of-106 from beyond the arc. Meanwhile, Colorado is coming off a disheartening loss to Oregon State in the Pac-12 Tournament. That's a big reason why the model has Georgetown over Colorado as a potential 12-5 upset to consider for your 2021 NCAA Tournament picks.
How to make 2021 NCAA Tournament bracket predictions
SportsLine's model also has one region where you need to pick the No. 2 seed, while the Nos. 10, 11 and 13 seeds all deliver huge first-round upsets. Nailing those picks could literally make or break your bracket.
So what's the optimal NCAA Tournament 2021 bracket? And which underdogs shock college basketball? Visit SportsLine now to see which No. 2 seed you need to target, and see which region you need to pick the 10, 11, and 13 seeds, all from the model that's called 15 of the 26 first-round upsets by double-digit seeds in the last four tournaments.