JHS gets AP computer science honor | News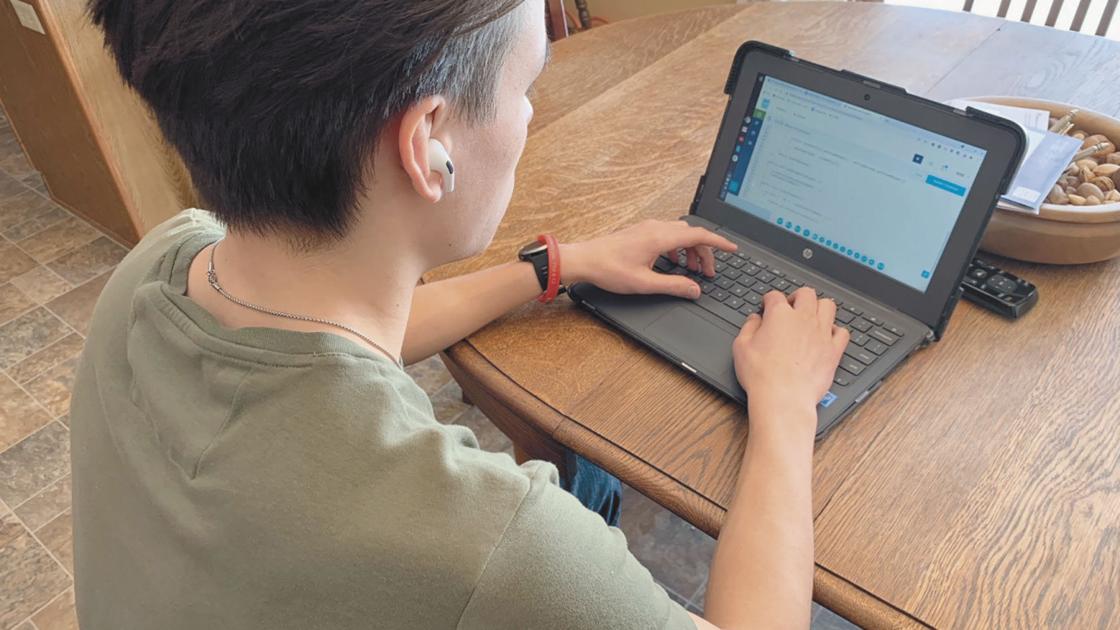 JEFFERSON — Three years after Jefferson High School established its computer science department, the district has been honored for diversity in its Advanced Placement Computer Science program.
Though the honor reflects the hard work of the students involved, it wouldn't have happened without computer science teacher Jason Marin, who came to Jefferson High School a few years ago.
Hired to teach math, Marin envisioned expanding into computer science and offering students a variety of courses that would better equip them for the high-paying careers in this developing field.
Before a single computer science course was slated, Marin gauged student interest with an extracurricular Coding Club, which eventually evolved into a Robotics Club.
The club had big plans to expand into the competitive arena, but then the pandemic hit and extracurriculars were put on hold.
The Computer Science department, however, has been thriving.
A couple of years ago, the district offered its first Computer Science courses: Intro to Computer Science; Game Design and Advanced Placement Computer Science.
The Advanced Placement designation, oversee by the national College Boards program, assures that the AP class meets rigorous college-level standards and offers the opportunity for students to test out of college pre-requisites if their score on a national exam is high enough.
Participation in the AP course was low the first year, since no one had taken the introductory course, Marin said. Still, a few top math students tried their hand at this new course and excelled.
Then last year, 26 students signed up for AP Computer Science. Those who thought the course would be a great opportunity to fool around on computers all hour long soon learned differently, but those who dedicated themselves to the fast-paced, college level work saw success.
It's this group of students which earned Jefferson High School its recently announced honor for Diversity in Advanced Placement Computer Science.
To earn this honor, of the successful AP Computer Science students, a certain percentage had to be female, as young women are typically underrepresented in this field.
Marin said he had several highly skilled young women in his class. Among them were standouts Anna Kallsen and Carrie Yerges, while Brenda Sampayo Vergara is among his top students this year.
Marin saw the high level of female involvement and achievement as natural, not an anomaly.
After all, he noted, the field of computer science was actually developed by women, though in the intervening years it was somehow subsumed by men until men became the stereotypical image of a computer scientist.
Future plans
With the pandemic still ongoing, enrollment in AP Computer Science has dropped a little this year, Marin said, as many students hold back for the opportunity for more active involvement in future years.
In the same vein, Jefferson High School has pushed back plans to expand the computer science department for now to allow teachers and administrators to concentrate as getting through this pandemic as safely and successfully as possible.
With vaccinations now underway, planners are looking forward to a time when they can return to some degree of normalcy. At that point, plans are underway to add a couple more computer science offerings at Jefferson High School, including another Advanced Placement course, AP Computer Science II.
Also on the docket are the following electives: Coding Principles; Web Design and Cybersecurity.
Hopefully, when clubs start back up again, that also will allow the school to resume its Coding Club/Robotics activities.
It's a growing field, Marin said, and those who take AP Computer Science will graduate with a highly marketable skill.
Knowing how intimately computer technology is already integrated into our lives, Marin asks his students, "Do you want to be in charge of your computer, or do you want your computer to be in charge of you?"
He noted that he had a student a couple of years ago who did not wish to go the college route, but was still able to parlay his experience in AP Computer Science into a web security job with a local company right out of high school.
"I definitely think that taking this class has impacted my thoughts on what I would like my future plans to be. I'm not exactly sure what I will be studying next year but after being introduced, computer science is something I'm considering," said Brenda Sampayo Vergara.
Sampayo Vergara also gave some advice to potential future AP Computer Science students.
"I think the most important takeaway is to keep an open mind. I'm glad I had an open mind about this class because now I enjoy coding and have found something I would like to do in the future," she said.
"It's a case of the classic 'Don't judge a book by its cover.'"
As Marin has had the opportunity to teach these high level computer science courses over the past few years, he said his own understanding of the material has grown exponentially.
The honor
Jefferson High School is one of only 232 schools nationwide to be recognized for expanding young women's access to computer science at this level.
In its letter of congratulations to the school, the College Board organization noted that new research shows that female students who take AP computer science are more likely to major in computer science in college compared with matched peers.
As a result, they'll be more prepared for high-paying, in-demand jobs of the future and better able to address society's most challenging problems through technology.