Heart health month surprise at Cone Health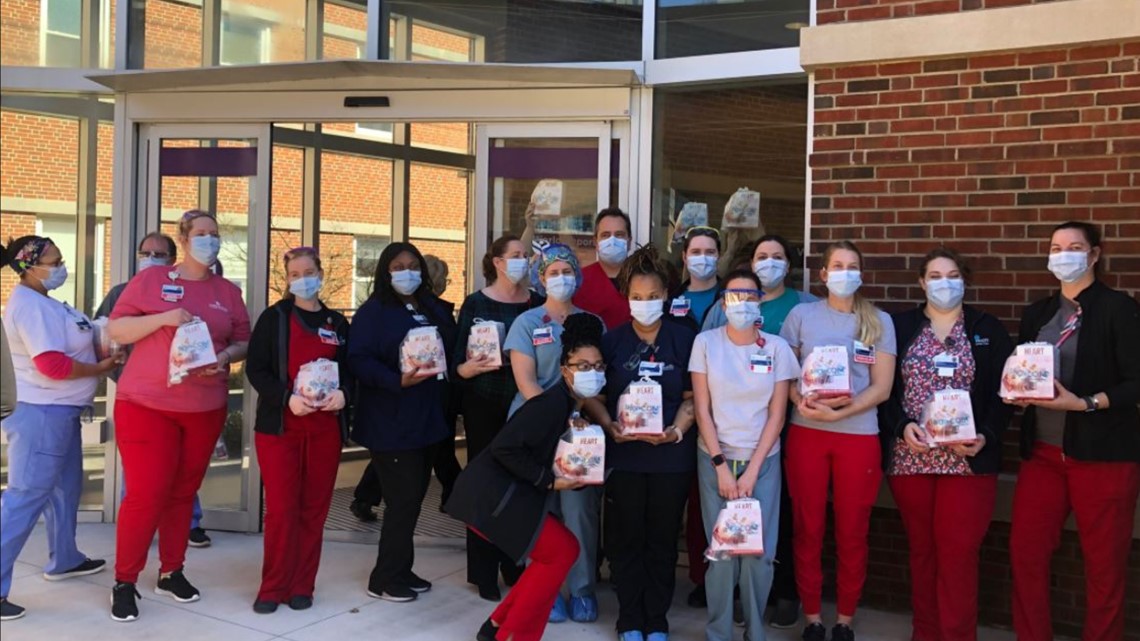 Market America Worldwide President & COO Marc Ashley surprised all 500 Cone Health Heart & Vascular staff members with gifts.
GREENSBORO, N.C. — February is American Heart Month, a time when the nation shines a light on the dangers of heart disease.
Despite being in a pandemic, heart disease is still the leading cause of death in America.
Cone Health's heart and vascular center staff continue to stress the importance of taking care of your heart, and a Triad business owner noticed their hard work.

Health care professionals took a break from saving lives and had their hearts warmed, Wednesday.  
RELATED: Help your heart health by focusing on mental health
RELATED: Healthcare workers surprised with art as a way to say thank you
Marc Ashley is the president and COO of Market America, a product brokerage and internet marketing company.

He had his heart set on surprising staff.
"Just letting them know that our community cares about what they're doing and being recognized for that," Ashley said.
Ashley is also on the advisory board at Cone Health.
The president of Moses Cone Hospital reached out to Ashley about providing 15 raffle gifts for staff, but instead, he surprised all 500 employees.
"I said no I'm not giving away 15, I'm going to give one to everyone single person that works there, we can do the raffle but I want everyone to get something because they deserve it," Ashley said.
Each employee got a heart health kit that helps with cardiovascular health, vitamins and special protective gloves.
15 winners also scored a spa treatment. 
Preston Hammock, the president of Moses Cone said it was a great surprise.
He said they wanted to show their appreciation for their staff while also highlighting the importance of heart health.
 "We've talked about coronavirus but it's not the only medical issue that impacts our community," Hammock said. "We wanted to call attention to the fact that heart disease is the leading cause of death in the community and our country."
Preston encourages folk to seek care for heart health issues even in a pandemic.
They have a team willing and ready to make sure no ones heart skips a beat.