Dissecting the Anatomy of a High-Performing Website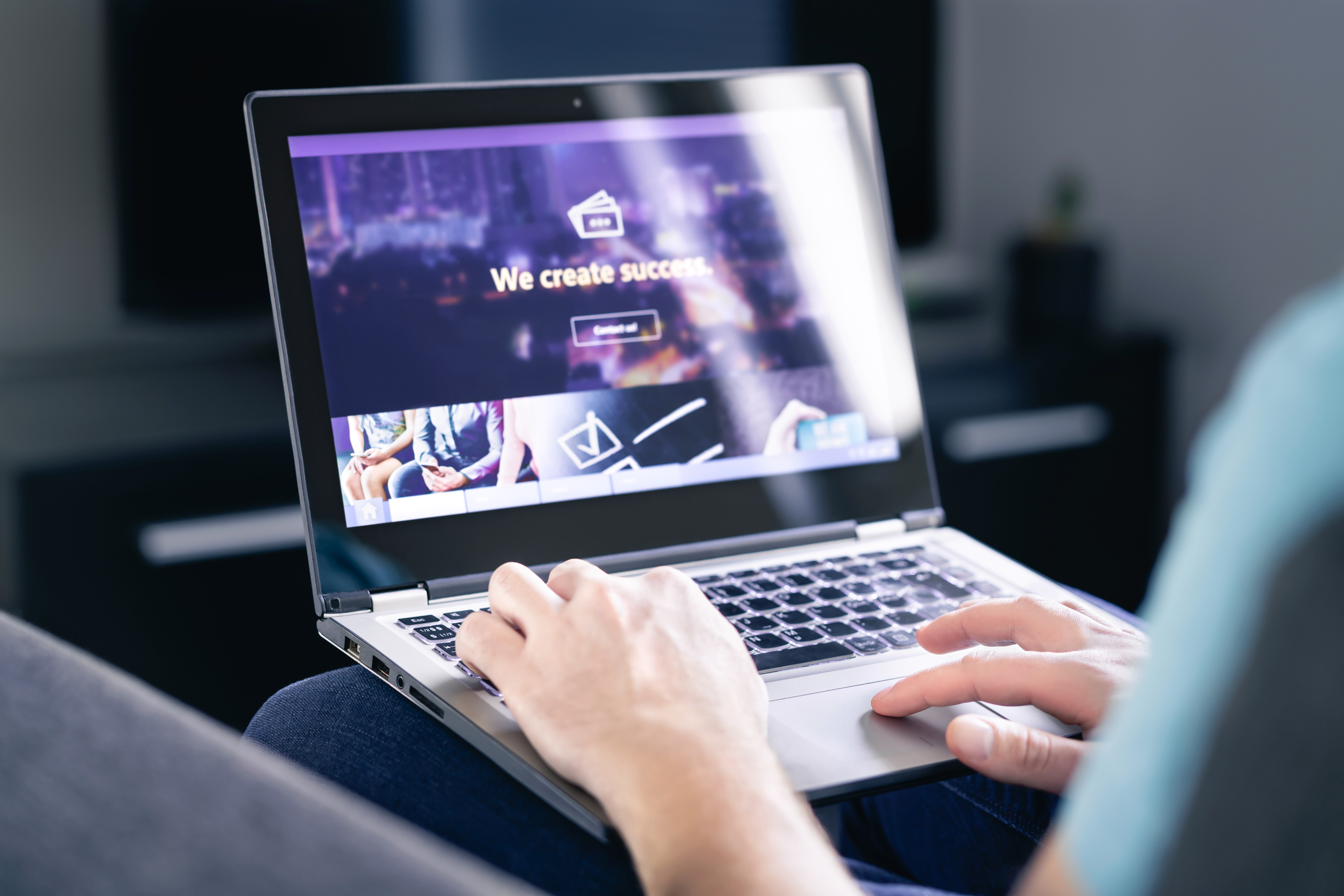 Your website is a space you own – a place on the Internet where you have a good deal of control. 
It can be the hub of your entire digital marketing strategy. When people visit your website, you want them to buy into your message. All the parts of your website, seen and unseen, exist for this goal of converting customers. 
Understanding website anatomy
In this competition for human attention, your website delivers an experience. In a high-performing website, each aspect of the site fulfills a purpose. The design instills a feeling about the personality of your brand and guides the eye and the mouse.
The information unfolds just as the user wants to know more. Visiting robots are also able to understand the value of your offering, so they rush back to tell search engines that you make the Internet a better place.
An intentional website strategy involves working within the constraints of website anatomy. We've been given a wonderful gift from all the collaborators who have created this digital universe for us. From the countless website experiments, some web conventions have risen to shape the way people do business online. Communicating our message through these established norms allows us to turn human attention into revenue.
1. Web design
Website design is the first thing people notice when they visit a website. That initial impression is your opportunity to "wow" visitors. Curating the visual experience instills the perception of quality in your business. You want to communicate the quality of your company to potential customers, and on a psychological level you can do this with sleek web design.
The idea that design is just about making things look pretty is a huge misconception. Inspiring people to take action from a visual message requires empathy, training, curiosity, testing and data analysis. While it's fun to push the envelope of website design, Internet users have learned to interact with websites based on their previous experiences. You'll want to take advantage of these learned behaviors if you want to maximize your website revenue.
Remember that everything about web design is a metaphor. People put items in their cart because they've associated carts with purchase consideration. Playing a video no longer requires that film move to the right, but our triangle still points that way because the symbol is widely understood. Here are the key elements of a page layout and their expected functions.
Header
The page header is where people will quickly gauge the scope of your company. They expect to see your website's logo and a main navigation menu. Include a quick path to your most commonly-sought items in the navigation. Examples of high-traffic pages to include in the primary navigation menu are: contact info, user login, patient portal, shop and checkout.
The header's navigation bar can include dropdown menu items beneath the main categories. This helps people find what they're looking for without overwhelming them with too many choices right away. A good User Experience (UX) rule is to give a simple overview and then let users dive deeper as they choose to. Curating your header items is an exercise in restraint and prioritization.
Some questions that the website header answers are: 
What services does this company offer? 
Can I shop on this site? 
Where are the physical locations? 
How can I contact customer service? 
How do I schedule an appointment?
Body
The main content of each web page should quickly communicate the page's message. There's this idea that you should think about designing a website for mobile users first. Imagining your message on a small mobile device forces you to prioritize the most important information. As you whittle down your story into a title of a few words, followed by a few sentences, a structured message emerges.
Check your Google Analytics to see how long your target audience spends on your website. Chances are, you only have a few seconds to capture their attention. Think carefully about the purpose of each page, how you will get people to come there and where you want to go after.
Call-to-action (CTA)
Choose one main action that you want visitors to pursue. It should be very obvious to the visitor what you want them to do on your site. 
Examples of a main CTA are: 
Purchase
Schedule
Call
Donate
You can put a CTA button in your topbar (in the header above the navigation) and a few times throughout the body of your conversion pages. Some will arrive at your site because they've already decided to purchase, so they're looking for this button right away. Others may decide to click this button after reading your message, and others might click out of curiosity for your pricing. Clicking this button brings potential clients one step further into your sales funnel.
Footer
What do you want your visitor to do after they've reached the bottom of the page? It's ok to have a few different footer versions based on the intent of your page type. If they've already passed over your main CTA, then now might be a good time to introduce some secondary CTAs, like "subscribe to newsletter" or "follow on social media". 
In the page footer, you'll want to include contact information and some businesses even include a full sitemap here. It's a great place to include any internal links that you want present on every page of your site. Think about the customer journey, and look at other influential websites in your industry. For example, news publication websites often include a link for advertisers in their footer.
Sidebar
Sidebars are optional, and they're most often associated with blog posts. They can aid in navigating across topics and often include secondary calls to action. Be careful to guide your reader's attention wisely, and track which sidebar widgets perform best. Leave sidebars off the main conversion pages to avoid distraction on the way to checkout.
2. Information architecture
An outline of all your information is a great place to start when planning a new website, a redesign, or even a regular audit. Effective web design is about communicating a message quickly. The structure of the site should be engineered to move the website visitor toward that desired action. Your site structure can be broad and shallow or narrow and deep, just make sure you're aware of how this affects the flow of traffic across your site.
Landing pages
The first page where your visitor arrives on your site is their landing page. You can create different landing pages for each type of customer to explain why your company has the perfect solution to their unique problem. Crafting positioning statements will help you create landing pages with high conversion rates.
You can get relevant traffic for these landing pages through targeted outreach or SEO. You've probably seen B2B websites that make a different landing page for each customer industry. That company could do LinkedIn outreach campaigns to drive traffic to those pages. Relevancy and personalization increase conversion rates, so these targeted spins on your message are often worth the effort. The most visited landing page is your home page.
Homepage
Your homepage will carry the most SEO weight for your brand, and a lot of people will end up here first. The home page needs to instantly engage people with your brand message and direct them to a page that will resonate with their specific needs.
Experimenting with your home page layout can yield the greatest results for increasing your click-thru rate and average session duration. Take the best elements of your brand to create a great homepage that moves traffic to conversion pages.
Product and service pages
Product or service pages should be high-converting pages. Their goal is to convince the customer to take the next step in your sales funnel. Give them all the information needed to make this decision. Include lots of images, and make it easy for your customer to purchase, call, or schedule an appointment.
Contact page
Publishing where you're located and how to reach you builds trust with your customers. In fact, many visitors are coming only to find this information, so make it fast and easy to find. Give options on how to contact you. There are some fast decision-makers out there, and the first company to respond may just get the deal.
Blog
A strategic blog is a powerful tool for SEO. Targeting a blog post to rank for a specific keyword will bring in more relevant traffic, and backlinks from other sites will build authority for your website.
Blogs also serve to build interest with potential customers. Perhaps someone visited your website, and they weren't ready to purchase yet. They wanted to remember your company, so they signed up for your newsletter or followed you on a social media channel.
This is your opportunity to keep them engaged as consumers of your information. Announcing your latest blog posts, you can keep pulling them back to your website and hopefully direct them to a conversion page.
Internal links
Keep people on your website longer by leading them to the next piece of content. The easiest and most powerful way to increase your website's power is to maximize your internal links. You can do this by creating text links in your body copy, or by creating entire design blocks that promote other pages on your site.
3. SEO
Everyone wants their site to come up in relevant search engine results. This is an ongoing journey which requires monitoring, analysis and consistent content creation. Your website needs a solid SEO foundation to rank for your most important keywords, and a content marketing strategy to grow your visibility.
Everything you do on your website to contribute to its visibility is known as on-page SEO. In addition, producing high-quality content will encourage others to link back to your site, which increases your off-page SEO.
At first, websites will rank for branded keywords, which include the name of the business. Next, the website can focus on a niche area and rank for keywords within that narrow topic. With increased authority will come the opportunity to rank for more high-traffic search terms. It's a game of focus and strategy, and ultimately SEO goals need to align with revenue opportunities.
Technical SEO
Robots read your site differently than humans, and they're the ones determining how your site ranks. While algorithms are increasingly trying to be more human-like in their interpretation, they still need a little help. 
Adding extra information like structured data, sitemaps and internal links helps search engines understand your message in a more contextual manner. Page speed and great site maintenance shows that you care about delivering a great user experience, which will also give you a boost. 
Some indicators of a technically sound website are: 
SSL certificate
Structured data
Sitemap
Working links
Hreflang tags
Alt tags
Great core web vitals
Meta tags
robots.txt
no duplicate content.
Share-worthy content
Publishing great content will encourage influencers and other publishers to share links to your site, driving more traffic and sometimes even passing SEO "juice". A little bit of research goes a long way here. Discussing topics that your customers are interested in gives you an opportunity to be an information authority and build trust. Align your content strategy with your business model to become the expert in a niche topic area. 
Examples of share-worthy content include: 
Infographics
Explainer videos
Data from original experiments
Interviews with industry leaders
4. Content
Bringing together different forms of media to tell a story creates an engaging narrative. The content can explain why your company is superior, educate about your field, or even paint an emotional picture that you want people to buy into. Content marketing is a whole industry in itself. By making your website a repository for your evergreen content, you can draw a steady flow of traffic to your website.
Images
Photography, illustrations and infographics are all different image types you can use. Combine stock photography, on-site photos and graphic elements to create a feeling around your brand's personality. You can also use images to break up chunks of text, keeping the reader's attention.
Source
Videos
Like images, videos come in many forms. Simple stock video combined with floating text can serve as a teaser for a blog article. A documentary-style interview video can make your company more relatable to customers. An animated explainer video can use metaphor to pitch new technology.
Social proof
Proof of your credibility will go a long way in convincing potential clients that you're their best option. This is known as social proof, and it's a must-have for any website. Embed Google reviews, post client testimonials, and display awards and credentials. Also, give your customers an opportunity to be brand ambassadors with "leave a review" or "comment" buttons.
Articles or blog posts
Writing is a must for website content. You need to build up word count and discuss topics relevant to your business to be promoted by search engines. Long-form articles also keep customers on your website longer. If you hire writers who are also influencers, then you could negotiate the added benefit of promotion to their audience.
5. Web development
Now we're down to the guts of website anatomy. When people interact with your website, they're doing it through a browser, like Chrome, Safari or Firefox. That browser is reading the code referenced in your website files and using it to paint the website on the visitor's screen.
HTML, CSS, JavaScript
There are a few coding languages that browsers use to paint your website, three basic ones being HTML, CSS and JavaScript. Hypertext markup language (HTML) is like the skeleton that forms the page structure, describing each piece of content. Cascading style sheets (CSS) is responsible for telling the browser how that content should be laid out design-wise. JavaScript describes actions that should take place on the site, often encouraging user interaction. 
Well-written code plays into user experience, page speed, and your ability to evolve your website. There is always a tradeoff between resource-intensive design and fast-loading pages. The tough decisions are best made after analyzing user behavior.
Content management system (CMS)
A website could be built purely with HTML, CSS and Javascript, but to scale a business website you'll want a content management system. The most famous and widely-used CMS is WordPress. A CMS enables several people of varying computer literacy to contribute to a website through a user-friendly interface. It also provides a system of collaboration for web developers, who can tap into themes and plugins from tens of thousands of other developers.
Choose your adventure
Businesses can choose from a plethora of existing website elements to help them communicate their message. The tested strategies of converting customers provide a solid starting plan that can be tweaked with time and effort. At the end of the day, effective website design is measured by how much it increases your company's revenue. 
Making incremental changes and measuring results is the path of continual improvement. There's always an opportunity in the present moment to experiment with performance. Approach the present with courage.