Cyford Technologies LLC serves website designing, targeting small & mid-sized businesses to increase their growth rate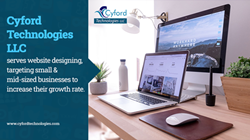 SNELLVILLE, Ga. (PRWEB)
August 09, 2021
Cyford Technologies LLC, making small and mid-sized businesses grow by taking a business online. Expanding business reach increases business growth exponentially.
Our world is turning digital at a fair pace. The online presence of a business is becoming a necessary tool for business growth. Many small and mid-sized enterprises think that having a social media presence is more than adequate. They believe the website doesn't play any role, but the reality is different. A business website, directly and indirectly, contributes to the success and growth of the firm.
Everyone wants to expand their business by taking it online. It is the most reliable and trendy way. For last years many businesses firms which are online are hitting their growth rate to max. Now anyone can take their business online. Cyford Technologies LLC provides a reliable website designing service at affordable price.
Mr. Allen D. Ford, CEO of the company says," Our goal is to increase the small & mid-sized business reach and make the business grow exponentially with an effective website design " Our experts know the exact way of designing a website.
Cyford Technologies LLC has a team of experts & they know how to design a website that fulfils the time demand needs. Design a responsive website that attracts clients and gives them a trustworthy feeling.
About Cyford Technologies LLC
Cyford Technologies LLC was established with a big vision to become the best IT company. We seek to be innovative to remain competitive in the global IT market. We design, build and maintain customized internet-related solutions.
For more than 20 years, we create custom web applications designed for all devices and build to scale. We helped millions of small & medium businesses globally by taking their business online with SEO-friendly and high-ranking websites. Our web solution shows the experts have years of experience.
We build lasting relationships with our clients, which motivates us to serve high-quality and flexible solutions. We work seriously and deliver an impactful solution, consider deadlines & deliver before it at budget-friendly charges.
Share article on social media or email: