Black History Month lecture series continues with focus on technology | Journal-news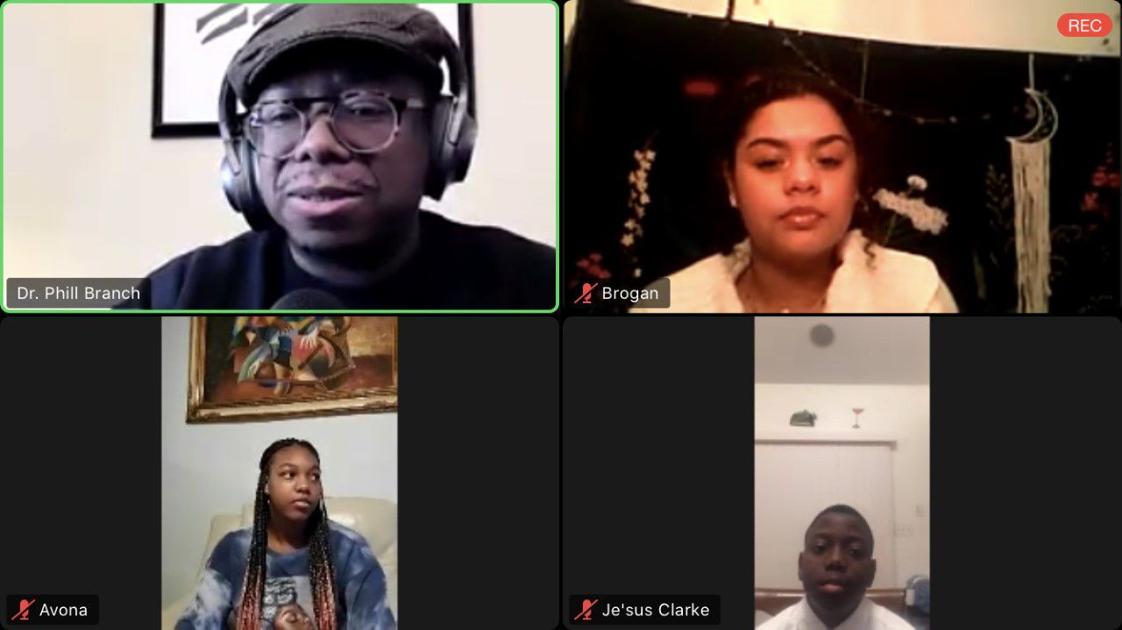 MARTINSBURG — Students from schools in Berkeley County and Jefferson County got an insight on how technology is an avenue of expression during the second installment of the districts' joint virtual lecture series in honor of Black History Month, "STEAMing Ahead in Black Excellence."
Wednesday night's lecture featured Dr. Phill Branch, a professor at Goucher College and an experienced journalist, performer, writer and filmmaker.
Not in the technology field by trade in a common way of thinking, Branch is the perfect example of how technology plays a vital role in so much of life now.
"There's a lot of different ways you can use technology," he said, noting how even refrigerators have computers at this point.
He thought back to his first gaming system, an Atari on which he played Pong. That simple game — just two sticks and a dot bouncing back and forth — was one of the first sparks of interest for him in the technology world, followed shortly after by some of the first computers.
It was through that first computer he learned how to code to build a simple rocket to fly across the screen.
"I didn't know that word then," he said. "I just learned and put in the information."
For undergraduate studies, Branch attended Hampton University, studying broadcast journalism with a basic setup of a microphone and camera, not the advanced technologies found in studios today. It was those early days during which he realized that learning every aspect of the job was important, especially those technological aspects, in order to make the best production.
"We could do a lot of our work without the use of a computer," Branch said, "but it still required a knowledge of how things worked."
As Branch advanced in the industry, so too did technology, the writer discussing in high regard how creatives don't have to wait for permission to bring their concepts to life as they once did, whether that permission be from a studio or a financial backer, because of the advancements of technology.
"How do we use (technology) in telling the stories we want to tell without asking permission?" he asked. "If you have a phone or tablet or computer, you have the ability to tell your story."
Storytelling is where Branch thrives, performing written word — or as he described it, "comedy but with longer stories" — and hosting a podcast about his life. He told the story of his first podcast, simply downloading an app on his phone and recording in his home. That gave way to Branch's explanation that apps are nothing but tools, a means to put the stories and creations out into the world.
It's because of those advancements in technology that nothing is holding those with inspiration back. Branch said his students often bring up plans for after graduation, the pieces they're going to write, the projects they're going to bring to life.
"I tell them, 'What are you waiting for?'" Branch said, adding how those advancements have truly opened the world for those who don't fit the mold or don't have the same means as others.
He returned the lecture to a grant he was awarded just before COVID-19 hit the world, $10,000 to perform storytelling in front of live audiences, a grant that eventually came to life through those podcasts.
"One day, after having sanitized my hands for the thousandth time, I was sitting in my house, and I looked I my phone. I said, 'I wonder if I can something on my phone, just start talking, just start telling some stories?''' he said, talking about finding a podcast app to record. "I didn't know what it was going to be, but I uploaded one episode. Then I uploaded two episodes. After about four or five episodes, the thing I was recording in between getting my kids snacks and sanitizing my hands and being worried about COVID, this thing I was recording in my house while I was stuck at home, has thousands of listeners."
From there, the podcast flourished, reaching thousands of homes, with people asking about the next episode as Branch delved into a new world of technology without leaving his home. In turn, the people behind that grant felt he still met the requirements, reaching far more than he would have in a small theater setting.
"I got a $10,000 grant from recording something in my home," he said.
It's through those useful advances that technology allows anyone and everyone to create whatever is in their souls, allows those who don't fit a certain mold or seemingly don't have the opportunity to create to break through and find success.
"What would have been a roadblock for me at your age doesn't have to be a roadblock, because you have access," he said.
Branch concluded his presentation by fielding questions from a panel that included students from Jefferson and Berkeley counties, as well as those participating through the chat. He fielded questions about everything from role models to inspiration.
The lecture series will continue every Wednesday through March 3, being held via Zoom from 6-7 p.m. Next week, the focus will be on engineering with a lecture from Dr. Lauren Augustine.