Arkansas beats Texas Tech, 68-66, advances to Sweet 16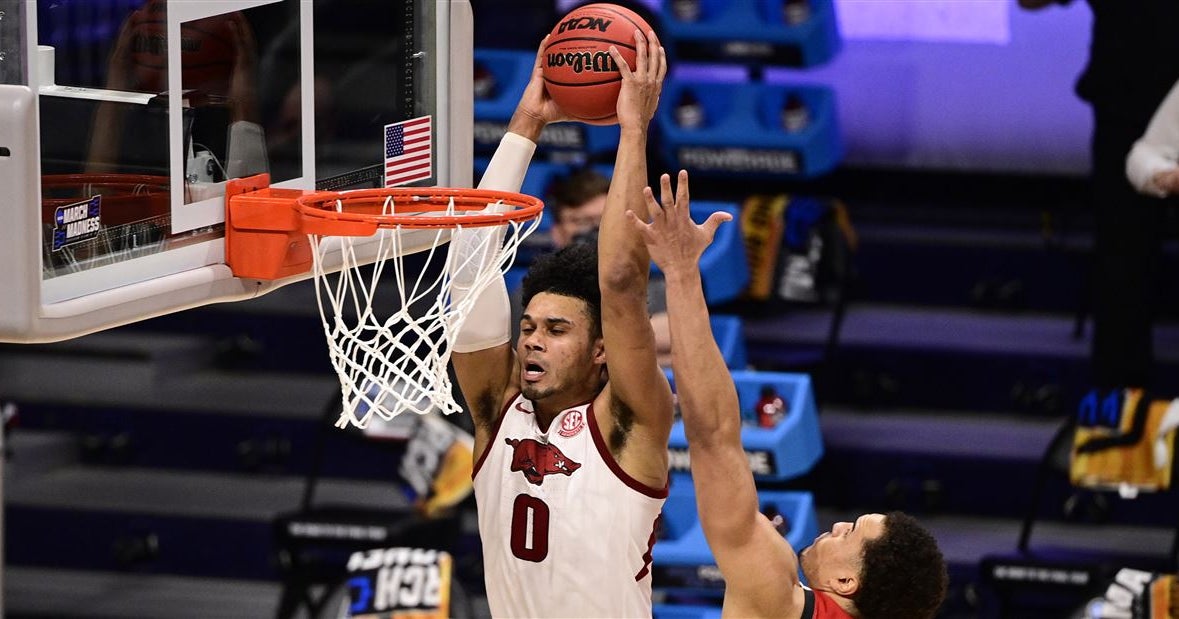 The Arkansas Razorbacks knocked off Texas Tech, 68-66, Sunday evening inside historic Hinkle Fieldhouse. With the win, the Hogs advance to the Sweet Sixteen for the first time since 1996, a span of 25 years.
In an intense, physical battle between two of the top defensive teams in the country, Arkansas overcame an early 10-point deficit and led 33-31 at halftime. The Razorbacks built up a nine-point lead of their own four minutes into the second half and led 56-46 with as little as eight minutes to play. Texas Tech cut the deficit to a single point with 1:56 remaining, but the Hogs came up with stop after stop, including a forced miss at the rim as time expired to seal the historic victory.
"Obviously Texas Tech is a really physical team. I thought we went nose to those with them on the backboards. An unbelievable win for our program," Arkansas coach Eric Musselman said after the game. "We did a great job of trying to wall them off. In the last few seconds we didn't want to give up a three. We went through our one through five switching. And look, Texas Tech is such a tough team and we went pound for pound with them tonight."
Justin Smith led the way for Arkansas with 20 points. Davonte Davis and Moses Moody scored 15 a piece, and Jalen Tate pitched in 10. Jaylin Williams led Arkansas with 10 rebounds on the night. The Hogs shot 41.9 percent from the field, 4-of-17 from three and 12-of-17 from the charity stripe.
"Coach Muss really emphasizes putting in extra work in the offseason and even all the way through the season, we're getting one, maybe two workouts in along with practice, with our GAs, having them rebound for us and work us out," Smith said. "I think just my confidence is really what has caused this great improvement, just being able to work on it and having a culture of everybody being in the gym and a coach that allows you to have the freedom that allows you just to play basketball."
RUNDOWN
Arkansas jumped out to an early 5-0 lead after Justin Smith finished a give-and-go through contact for a three-point play and Moses Moody knocked down a mid-range jumper. The Red Raiders answered with a 6-0 run of their own with a turnaround jumper from Kevin McCullar and three-pointer from Kyler Edwards. Texas Tech led 6-5 at the first media timeout with 15:56 on the clock.
Davonte Davis put the Hogs back on top out of the break, but it was short lived as Mac McClung knocked down a transition three and Terrence Shannon finished in the paint to give Texas Tech an 11-7 advantage. Jalen Tate made it a two-point game with 14:16 to play with a short jumper in the lane.
A transition dunk and blow by layup for the Red Raiders put them up six with 12:30 to play before Smith scored inside for the Razorbacks, sending the game to the under-12 media timeout with Arkansas trailing 15-11.
McCullar extended the Texas Tech' lead to seven with a corner three out of the timeout, and a transition layup by Marcus Santos-Silva made it 20-11 with 11 minutes left in the half. Arkansas got down by ten before back-to-back JD Notae three-pointers put the Razorbacks right back in it, 23-19, with 9:30 on the clock.
Davonte Davis converted a three-point play at the rim to get the Hogs within one possession, 26-23, with 6:48 to play. Arkansas tied the game at 27 after a put-back by Smith and pull-up jumper by Davis.
Shannon and Tate traded layups to make it 29-29 with 4:30 remaining in the half. Arkansas took a 31-29 lead on a pivot pull-up from Davis, who was red-hot for a stretch in the first half, but McClung immediately tied the game with an elbow jumper of his own. 
Another put-back by Smith with 3:09 left in the first half gave Arkansas a 33-31 lead. That basket was the last of the half, and the Hogs went into the break with a lead and 20 minutes separating them from a berth in the Sweet 16. 
Davis opened the second half with a catch-and-shoot jumper to put the Hogs up four, and after a pair of free throws by McClung, Tate found Smith cutting baseline for an alley-oop slam to make it 37-33 a minute in.
Moody buried a left wing three with 16:48 to play to extend Arkansas' lead to seven, and after a defensive stop, Tate drew contact at the rim and made both free throws to make the score 44-35 going into the first timeout of the half. 
Another emphatic two-hand slam by Smith put the Razorbacks up 11, but Texas Tech quickly answered with a three-pointer from Shannon to make it 46-38. Smith and Santos-Silva traded baskets, and a wild sequence of Arkansas turnovers and Red Raider misses took up the next several possessions.
A beautiful step-back jumper from Moody put the Razorbacks back up double-digits, 50-40, as the game went to the next media timeout with 11:58 remaining in regulation.
Williams pulled down a rebound and launched an outlet to Davis for a thunderous jam to put Arkansas up 54-42 with 9:28 remaining, but the freshman wing was assessed a highly-questionable technical foul for hanging on the rim. The Red Raiders made the free throw, but no further damage was done.
The call only added fuel to the fire for Davis, who went coast-to-coast the next possession for a layup to put the Hogs ahead 56-43. Edward knocked down a straight away three on a tip out to get back within 10 going into a timeout with 8:10 remaining. 
Texas Tech went on an 8-0 run over the next two minutes out of the timeout on the back of two more threes from Edwards to make the score 56-54. Moody stopped the run with a short jumper with 5:42 to go, putting Arkansas back up four.
Chibuzo Agbo banked home a three for the Red Raiders to get them within one, but Moody answered with one of his own on the next possession to keep the Hogs on top, 61-57 with under five minutes remaining in regulation.
A pair of free throws by Tate with 4:36 to play put Arkansas back up six, and he drew contact again with 3:55 to play, sending the game into its final media timeout.
Tate made both free throws to extend the lead to 65-57 for the Razorbacks, but Agbo connected from deep again to make it a five point game with 3:30 to play. Arkansas turned it over the next possession, and McCullar finished an up-and-under layup through a foul with 3:06 to go. He made the free throw to make it a 65-63 ball game.
Williams found Smith cutting to the hoop for a dunk on the next possession to extend the lead back out to four, but McCullar quickly made his way back to the charity stripe with 2:35 left and made one of two to get Tech within three, 67-64.
Davis saw a jumper rim out, and Shannon drew a foul this time for Texas Tech and went to the line. The sophomore guard made both to make it a 67-66 game in favor of the Hogs with 1:56 to play.
Notae missed a contested layup, giving Tech a chance to take the lead. Yet again, the Red Raiders found its way to the charity stripe. This time it was McClung with 1:15 to go. He missed the front end of a 1-and-1, giving the Hogs new life.
Arkansas came up empty handed again on a missed three by Notae, but Texas Tech missed a point blank layup with just over 30 seconds to play. Notae drew a foul with 19.3 seconds remaining and went to the line for two. 
Notae converted one of two to make it 68-66. On their final possession, Texas Tech came up empty handed on a drive to the rim that was contested by Smith, and the Arkansas Razorbacks held on for a 68-66 win, advancing to the Sweet 16 for the first time since 1996.