'A step closer to normal': Family members attend Montana Tech spring game | Montana Tech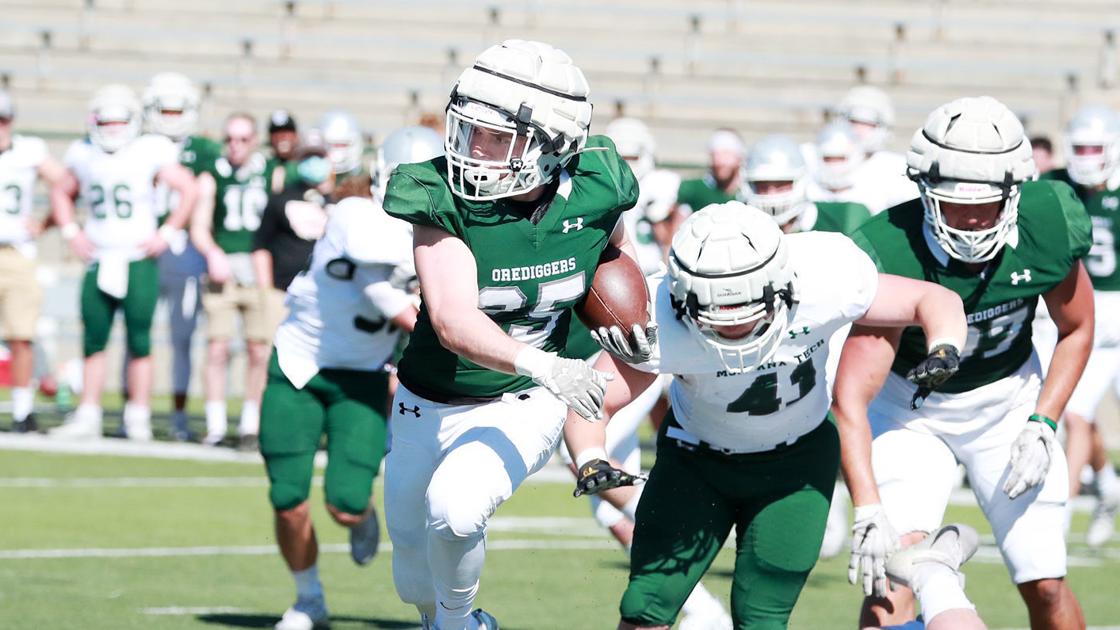 BUTTE —Bob Green Field sported empty stands and an unusually silent feel for more than a year, until the Montana Tech football team played their spring scrimmage in front of a limited number of fans on Thursday.
The scrimmage, which was open to select friends and family of the team, was originally scheduled for Saturday afternoon. With thunderstorms in the weekend forecast the team moved the scrimmage to Thursday, which appeared to be a fortunate decision.
"It was a ton of fun to have a game-like situation," said Montana Tech head coach Kyle Samson. "It's just exciting to come back and play football because it's been a long time. It was pretty dang cool to have our kids have their parents and relatives here."
Parents and relatives not only enjoyed the action on the field, but also some of the mildest weather Butte has had all year. The 75-degree day hosted families sitting in the stands, couples laying in grassy areas and children tossing footballs on the sidelines.
Players also appeared excited on the field, and had a unique opportunity this year to heighten their focus on football. Since Montana Tech opted out of the spring season and classes ended two weeks ago, players could focus solely on spring camp.
"Getting that game day feeling in, I just missed it a lot," said junior quarterback Jet Campbell. "Playing out here with my best friends, I wouldn't trade it for the world."
While score was not recorded and ball-spotting was generous, Campbell connected on many deep passes and scored multiple touchdowns in the scrimmage. Campbell said he was proud of maintaining his composure and providing leadership, which were two focuses he had upon entering spring camp.
Samson also credited Campbell for his passing play, but it was the offensive line that truly stuck out to Samson. He described the offense as "some big plays sprinkled into some good drives".
"If we're going to be good on offense it starts up front on the line," Samson said. "I'm just incredibly proud of our overall team effort and the guys up front. We want to continue to get bigger, better and stronger going into fall camp."
The defense also had an impressive outing in the scrimmage, showing speed and good anticipation throughout the 90 minutes of play. The defense was highlighted by an impressive interception by junior defensive back Jake Orvis.
Despite the successes shown on the field, Samson said his team can always improve and communication has been an emphasis. Perfecting communication and having each player buy into the team's "family" motto are factors for the team going into fall camp.
"We have some studs on both sides of the ball, I'm excited to see what we can do," Samson said. "It's been hard without a lot of practices but the last two weeks have been tremendous for team chemistry."
While the scrimmage was not open to the public, Montana Tech has planned to allow full-capacity crowds at regular season games this year, assuming no new barriers caused by the pandemic arise.
Montana Tech will open the 2021 season at home against Eastern Oregon on August 28. After the season-opener, the Orediggers will travel to Helena on Sepetember 4 for a difficult game against Carroll College.
"We're always doing stuff outside of football, hanging with the guys," Campbell said. "We're close off the field and on the sidelines. It's all fun."
"We'll get better one day at a time, for me it could be footwork or pocket presence," Campbell continued. "Really I'll just be looking for anything to work on to make us better as a team."
Blake Fussell covers sports in and around Butte. Follow Blake on Twitter @blake_fussell